My private puppet setup has nearly 100% coverage of the systems setup. Almost everything in hiera. But EOL :-( twitter.com/pregopresto/st…
I tought myself puppet in mid 2014. Didn't learn about profiles that time. Now I'm re-learning everythin with puppet4. Started from scratch.
@eller82 ja. Das war mit einer der Gründe warum wir alles probiert haben um dort einen Platz zu bekommen.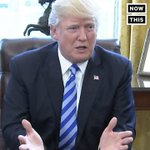 nowthisnews President Trump: I never said repealing and replacing Obamacare would be easy.

Really? Let's check the tape: pic.twitter.com/3Pk675UAqn
Im Kindergarten von K1 gibt es 🐔 🐔🐔🐔 und 🐇🐇. Dieses Wochenende haben wir Tierdienst. pic.twitter.com/OB9YITg59E
Gedankenbalsam Natürlich kann man AfD wählen, um die Regierung abzustrafen.
Man kann ja auch sein Auto anzünden, um der teuren Werkstatt eins auszuwischen.
*bürps* … Die Familie ist satt und das Brot halb leer! twitter.com/pregopresto/st… pic.twitter.com/VD4WMeGt6B
Genau am Tag der Sommerzeitumstellung morgens früh aufzustehen um ein frisches, süßes, Sonntagsfrühstücksbrot zu backen, war…ambitioniert!